Welcome to Gorilla Fireworks!
We hope that you enjoy fireworks as much as we do! Check out our Catalog and Products. There we feature fireworks that are good performers, customer favorites and staff favorites! Remember to use fireworks responsibly. FIREWORKS MAKE PEOPLE HAPPY!!
Staff Favorites!
Watch our staff show off their favorite products at Gorilla Fireworks!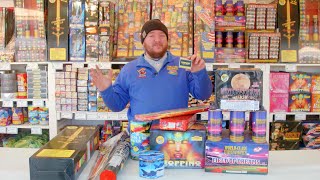 Enter to Win Free Fireworks!
Receive coupons and be signed up to receive special offers.

$100 Fireworks - Daily Drawing
June 27th - July 3rd, 2017

$1000 Fireworks - Grand Prize
July 4th

Must be 18+ to win. Drawing winners will need to pick up their free fireworks
at the Gorilla Fireworks stand in Houston, AK.
Winners will be contacted by phone and/or email.


Mile 52 Parks Hwy, Houston, AK
Open June 23rd
10am- 10pm

Bush orders please call.
1-800-770-6555

Mile 13 Richardson Hwy, North Pole, AK
Open June 23rd - July 4th
10am – 10pm